New Development
Ein digitaler Audio-Prozessor mit zahlreichen Variations- und Einsatzmöglichkeiten
Der hier gezeigte Digitale Audio Prozessor (DAP) dient zur Aufbereitung der Audiosignale für die Ansteuerung der dafür optimierten Endstufen AC-PAZ75 bzw. AC-PAR75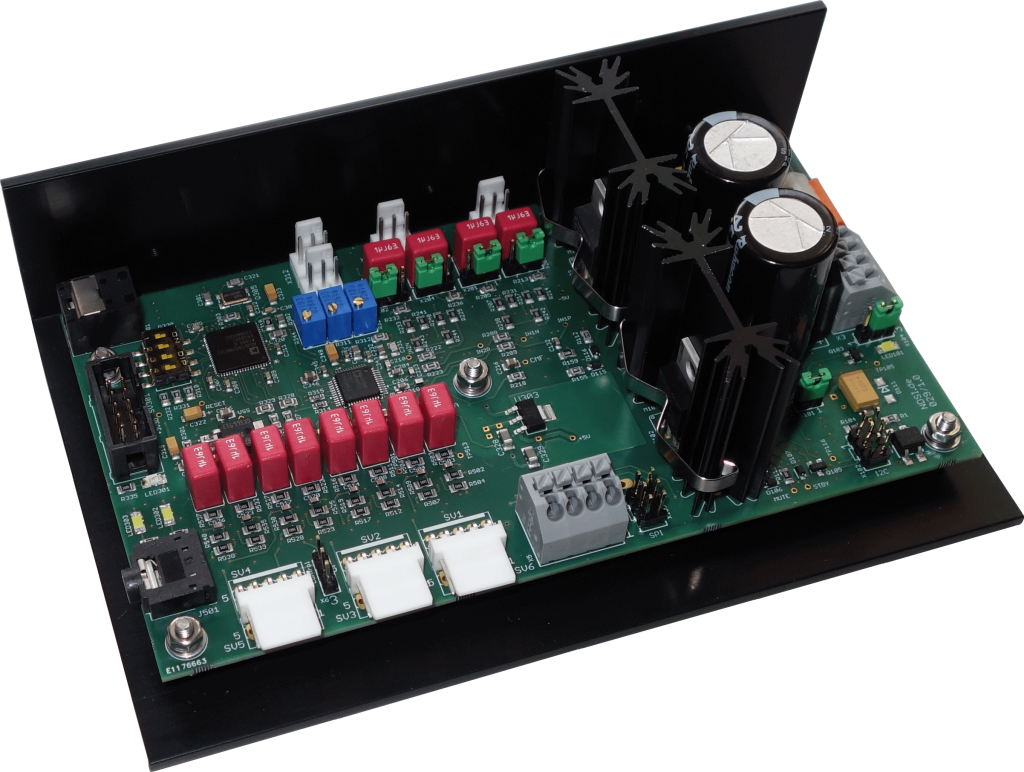 Sein Funktionsumfang wird fast ausschließlich bestimmt durch die Programmierung des DSP, der auf Basis einer optimierten Hardware für eine perfekte Soundqualität steht und speziell auf die high-end Endstufen aus unserem Programm angepasst ist.
Das DSP-Modul ist mit fertiger und getester Firmware lieferbar, kann aber auch mit Hilfe der auf grafischen Elementen basierenden Software SigmaStudio® der Firma Analog Devices durch den Anwender individuell programmiert werden.
Doppler Compensation (world first) in Combination with our AC-PAR75 Power Amplifiers
Extreme low distortion and noise (-100dB THDN)
Eigene 2 x 6V AC oder 2 x 9V DC Stromversorgung
Form und Grundfunktion identisch mit den analogen Audioprozessoren aus unserem Portfolio
Zwei symmetrische und und somit differentielle Audio-Eingänge
Optischer Eingang (Stereo S/PDIF)
Vier symmetrische oder bis zu acht unsymmetrische Ausgänge
Selektierbare Eingangsempfindlichkeit (Studio & Consumer)
2 ADC und 8 DAC für Audiosignale on-board mit AD1938
Analog Devices Digitaler Signal Prozessor (DSP) ADAU1452

24 Bit Auflösung, 48kHz
32-bit SigmaDSP
Self Boot Option on-board
Programmierbar über USB

Integrierter und in der Schaltung programmierbarer AVR Microcontroller für

Mute/Standby und Power ON/OFF-Steuerung
Display Unterstützung über I²C-Port für Status und Audio Level (siehe unten für weitere Details)
Audio Signal Erkennung (ASD) mit ON/OFF-Steuerung
Temperaturüberwachung und Datenspeicherung

Ausgänge für ON/OFF-Steuerung von internen oder externen Geräten bzw. Transformatoren anderer Module
Ausgang: 12VDC; passendes Stromversorgungsmodul lieferbar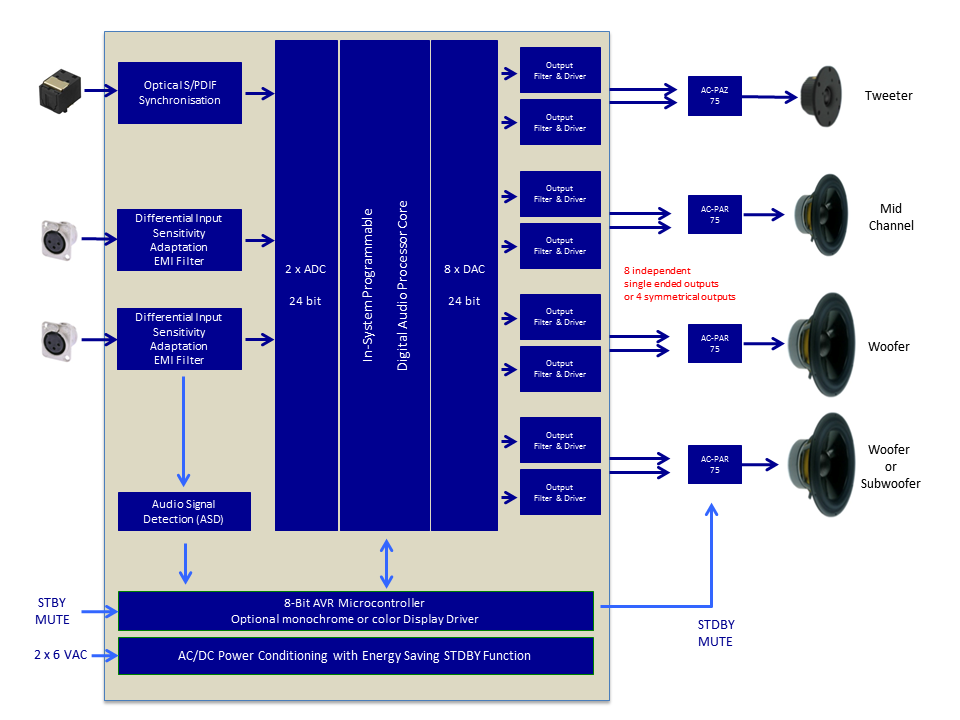 Description / Novel Features
The purpose of the compact, high-end, audio processor AC-DAP is to generate the appropriate driving signals for a Doppler compensated two-way, three-way, or four- way speaker system. The AC-DAP shows an excellent linearity and extremely low distortion and noise (better -100 dB THDN), combined with a perfect flat audio frequency response.
The block diagram above visualizes the main building blocks.
The AC-DAP receives the audio input as single ended or symmetric signal. In order to maximize the dynamic range of the ADC the input sensitivity of each input can be selected for studio or consumer audio levels. A band pass filter in the input circuitry determines the noise bandwidth between 2Hz and 120kHz and rejects out of band spurious signals. Differential amplifiers with high common mode rejection ratio deliver the two symmetrical audio signals to differential input 24 bit Analog Digital Converters. The anti-aliasing filtering is mainly done with digital filters at a high oversampling rate and an upper corner frequency close to half of the sampling rate.
Eight 24 bit Digital to Analog Converters feed their signals to eight output filters and driver stages with a bandwidth of 2 Hz to 120 kHz in order to avoid linear distortions.
The internal outputs carry also MUTE and STBY signals for the AC-PAZ75 or AC-PAR75 amplifiers.
An optical input is provided (TosLink) which interfaces trough a synchronization circuitry directly with the digital processor core.
An integrated digital controller is responsible for ensuring an un-audible ON/OFF switching sequence controlled by the on-board audio signal presence detector, or by external signals. Temperature monitoring of the module is implemented as well as a power saving stand by function.
Folgende Programmierungen sind derzeit verfügbar:
AC-DAZ
Digitaler Audio Prozessor für ein Zweiweg-Lautsprechersystem
Double Baffle Step Compensation
Adjustable Brilliance Enhancement
Compensation for voice coil depth distance
AC-DAS
Digitaler Audio Prozessor für ein System mit Subwoofer
Optional Potentiometers for Bass Control (Volume and Phase)
AC-DAD
Digitaler Audio Prozessor für ein Dreiweg-System
Double Baffle Step Compensation
Minimum Phase / Minimum Delay Filters
For more deatils a Datasheet of the module is available
---
On-board 8-Bit AVR Microcontroller
Auch auf diesem Module von AudioCiemgau findet sich ein 8-Bit AVR Microcontroller der Firma ATMEL für unterschiedlichste Aufgaben:
Bei Spannungsunterbrechung rasche Abschaltung (MUTE –> STBY –> OFF) um Störgeräusche zu eliminieren
Erfassung und Speicherung von Parametern und Fehlerzuständen im EEPROM für spätere Auswertung.
Dazu gehört: Anzahl der Einschaltzyklen

Anzahl der Betriebsstunden (in Minuten und Stunden)
Wert der maximalen Arbeitstemperatur des Modules
Speicherung des Korrekturfaktors für die Temperaturmessung (wird bei Erstinbetriebnahme festgelegt)
Speicherung der Ein- und Ausschaltschwellen für die Audiosignalerkennung (ASD)

Ansteuerung der internen oder externen zwei-farbigen LED (optional) um den Status und ggf. Fehler zu signalisieren
Unterstützung eines optionalen Displays (siehe unten für weitere Details)
---
Support of an optional Display
Ein I2C-Interface an allen verfügbaren Audioprozessoren erlaubt die Anbindung unterschiedlicher Displays. Ein angeschlossenes Display zeigt z.B. den Mode, die Modultemperatur, die aktuelle Aussteuerung und kundenspezifische Logos und Bezeichnungen.
Nachfolgend eine kleine Auswahl der verfügbaren Display-Typen und deren Möglichkeiten: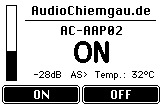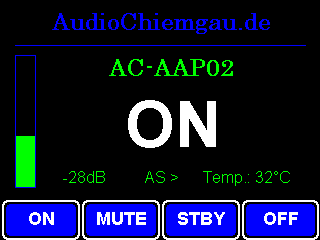 Bitte kontaktieren Sie AudioChiemgau für verfügbare Displays und kundenspezifische Anpassungen.