Our Analogue Audio Processors are world firsts.
They completely eliminate the Doppler-Effect that every moving Speaker Membrane generates
Analogue Processing of the audiosignal for our poweramplifiers AC-PAZ75 and/or AC-PAR75
Analogue Audio Processor for a Two-Way Speaker System
Analogue Audio Processor for a Speaker System with Subwoofer
Analogue Audio Processor for a 3-Way Speaker System
Analogue processing of the audio signal for our High-End power amplifiers in two way side speakers (D'Appolito layout recommended)
Analogue processing of the audio signal for two side speaker systems and our High-End poweramplifiers for the sub channel
Analogue processing of the audio signal for three side speaker systems and our High-End poweramplifiers
Double Baffle Step compensation
Adjustable Brilliance Enhancement
Compensation for voice coil depth distance
Differential Audio Outputs
Optional Potentiometers for Bass Control (Volume and Phase)
Optional Switch for Phase 0°/180°
Double Baffle Step Compensation
Differential Audio Outputs
Minimum Phase / Minimum Delay Filters
Doppler Compensation (world first) in combination with AC-PAR75 amplifiers
2 x 12V AC or 2 x 18V DC Supply Voltage avoiding ground loops (Voltage Regulators on-board)
Hardware Selectable Edge Frequencies
Extremely Low Distortion and Noise
Balanced/Differential Audio Inputs
Adjustable Input Sensitivity (Consumer / Studio)
On-board In System Programmable AVR Microcontroller for

Mute/Standby and Power ON/OFF handling
Display support via I²C-Port (e.g. Status and Audio Level)
Audio Signal Detection (ASD) with ON/OFF Control
Temperature Control and data logging

Output(s) for Remote Power Control of internal or external Devices/Transformers (12VDC)
Flange for vertical mounting available (see Figure of AC-AAZ)
Display Support (see below)
---
Support for optional Displays
An I2C on-board interface on all types of processors allows connecting a various display types showing the operation mode, the temperature, the audio level and a customer defined logo. See the following example for a possible implementation and display content of such a display.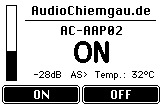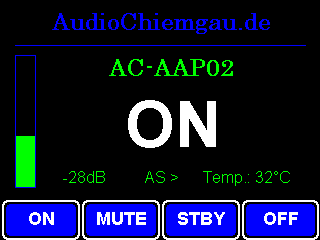 Supported are basic alphanumerik dispays as well as graphical displays with monochrome or color displays including touch function to control the different modes of the Audio Processor. All are available with different resolutions and different sizes.
Please contact AudioChiemgau for available display types, display colors or content customisation.