New Development
Digital Audio Processor with extreme flexibility
The displayed Digital Audio Processor generates the appropriate audio signals for the AudioChiemgau power modules AC-PAZ75 bzw. AC-PAR75 or other brand power modules.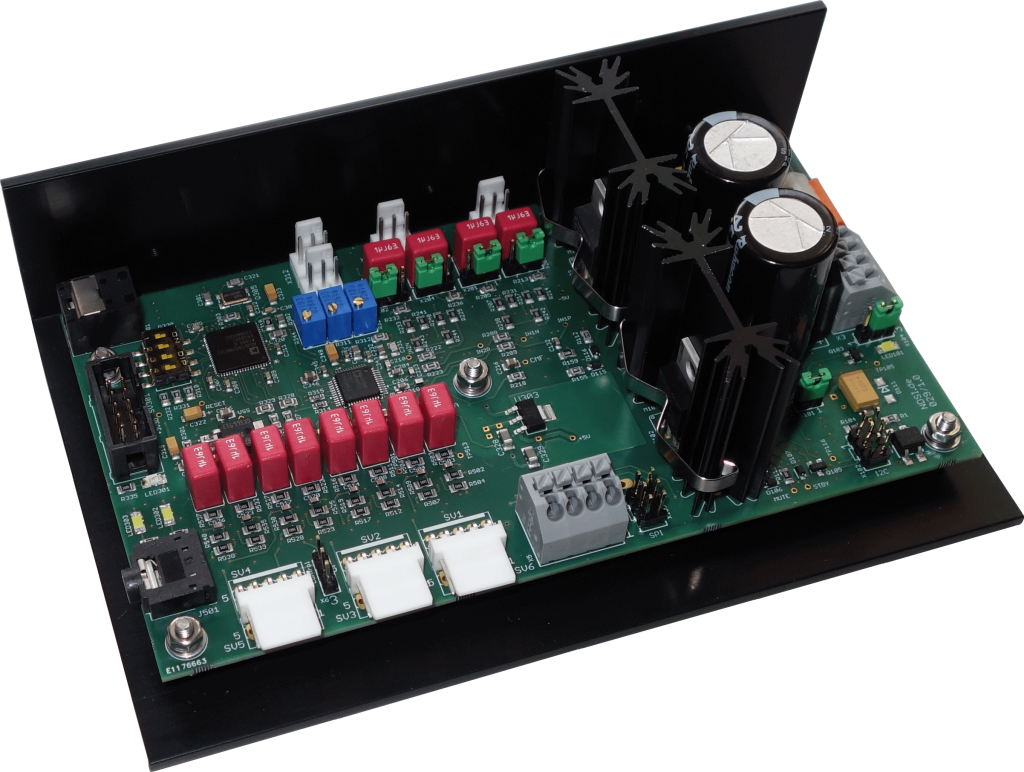 The in system programmable processing scheme of the AudioChiemgau Digital Audio processor offers extreme versatility for the user
The DAP module is shipped with a complete and tested firmware, but the user can modify or newly program all processing functions using the graphical user interface (GUI) SigmaStudio® of Analog Devices (free of charge).
Doppler Compensation (world first) in Combination with our AC-PAR75 Power Amplifiers
Extreme low distortion and noise (-100 dB THDN)
2 x 6 V AC oder 2 x 9 V DC Power supply
Form Fit and Function compatible with the Analog Audio Processors in our portfolio
Two balanced inputs with selectable sensitivity (commercial / studio level)
One Optical Input (Stereo S/PDIF)
8 single ended or 4 balanced outputs
2 ADC and 8 DAC on-board for High-End audio signal processing (AD1938)
Analog Devices Digital Signal Processor Core ADAU1452

24 Bit Resolution, 48 kHz sample rate (other/higher sample rates selectable)
32-bit signal processing with selectable single or double precision (SigmaDSP)
Self Boot EEPROM on-board
Programable via USB Interface

Integrated and programmable AVR Microcontroller for:

Mute/Standby und Power ON/OFF-control
Display support via I²C-Port for status and Audio Level (more details below)
Audio Signal Detection (ASD) with ON/OFF-control
Temperature monitoring and storage of use information

Outputs for ON/OFF-control of external equipment / power transformers
Output: 12 V DC e.g. for relay control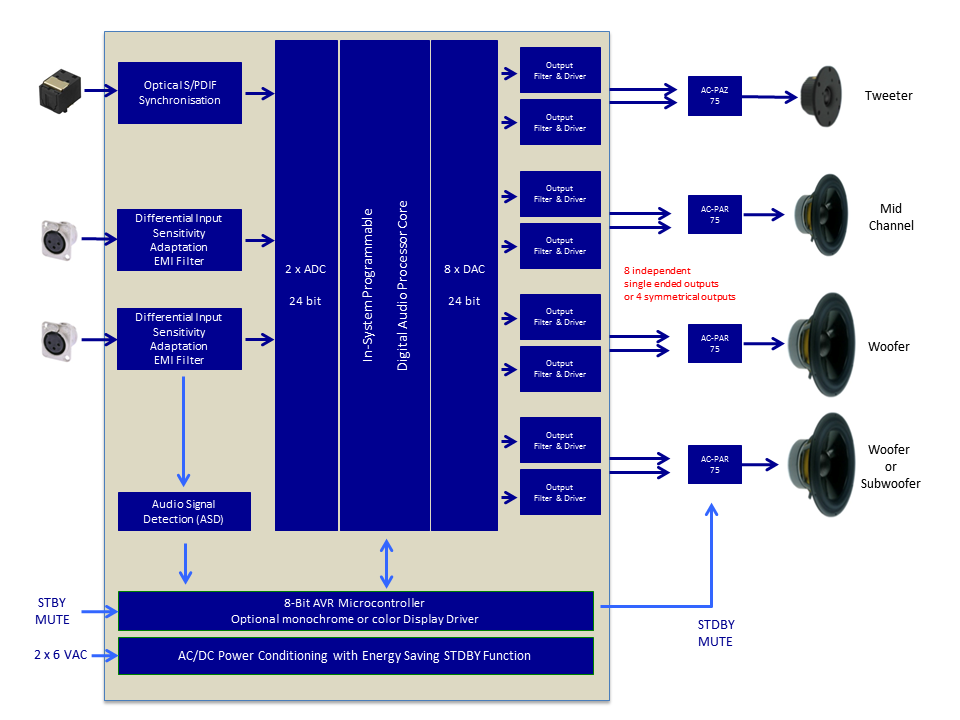 Description / Novel Features
The purpose of the compact, high-end, audio processor AC-DAP is to generate the appropriate driving signals for a Doppler compensated two-way, three-way, or four- way speaker system. The AC-DAP shows an excellent linearity and extremely low distortion and noise (better -100 dB THDN), combined with a perfect flat audio frequency response.
The block diagram above visualizes the main building blocks.
The AC-DAP receives the audio input as single ended or balanced signal. In order to maximize the dynamic range of the ADC the input sensitivity of each input can be selected for studio or consumer levels. A band pass filter in the input circuitry determines the noise bandwidth between 2Hz and 120 kHz and rejects out of band spurious signals. Differential amplifiers with high common mode rejection ratio deliver the two symmetrical audio signals to differential input 24 bit Analog Digital Converters. The anti-aliasing filtering is mainly done with digital filters at a high oversampling rate and an upper edge frequency close to half of the sampling rate.
Eight 24 bit Digital to Analog Converters feed their signals to eight output filters and driver stages with a bandwidth of 2 Hz to 120 kHz in order to avoid linear distortions.
The internal outputs carry also MUTE and STBY signals for the AC-PAZ75 or AC-PAR75 amplifier modules.
An optical input is provided (TosLink) which interfaces trough a synchronization circuitry directly with the digital processor core.
An integrated digital controller is responsible for ensuring an un-audible ON/OFF switching sequence controlled by the on-board audio signal presence detector, or by external signals. Temperature monitoring of the module is implemented as well as a power saving stand by function.
The following processing schemes are currently available at shipping
AC-DAZ
Digital Audio Processor for a two-way speaker system
Double Baffle Step Compensation
Adjustable Brilliance Enhancement
Compensation for voice coil depth distance
AC-DAS
Digital Audio Processor for a system with sub woofer
Optional Potentiometers for Bass Control (Volume and Phase)
AC-DAD
Digital Audio Processor for a three-way system
Double Baffle Step Compensation
Minimum Phase / Minimum Delay Filters
For more deatils a Datasheet of the module is available
---
On-board 8-Bit AVR Microcontroller
Each module – as all modules from AudioChiemgau – are equipped with a micro controller:
Immediate shut dow (OPS -> MUTE -> Standby) at interruption of the mains supply in order to avoid audio noise
Storage of failures in an EEPROM for later analysis, inter alia:

Number of of-on-of-cycles
Time of operation (hours and minutes)
Maximum temperature of the module

Storage of the on / off thresholds for the audio signal detection (ASD)

Control of the dual color LED (internal and external) for the signaling of operation / failure modes
Support of an optional display
---
Support of an optional Display
All AudioChiemgau Audio Processors offer an I2C-Interface for the control of displays, e.g. displaying the mode, the module temperature, the audio volume and customer specific Logos.
Below are examples for display types and displayed content: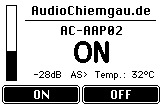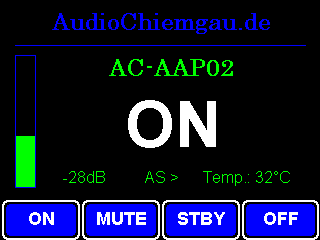 Please contact AudiChiemgau for customer specific displays and displayed content.